Oton Geek N8 - 8CH Touch Screen NDI Switcher with On-board PTZ Camera Control
The Oton Geek N8 touch screen NDI switcher combines a live streaming switcher, H.264 video encoder, Joystick PTZ camera controller, video recorder, studio monitor and audio mixer in one unit. Live production for live musical performances, lectures, presentations and church service can now be done easily by one operator, instead of the multiple operators that are usually required. It is also compliant with the NDI|HX standards, enabling connection and control of the remote camera to be performed through the same LAN cable with power provided* for smooth remote shooting. RTMP (Real-Time Messaging Protocol) is also supported. Footage can be directly uploaded to various streaming services such as YouTube Live.
Switching Between 8 Inputs
Oton Geek N8 touch screen NDI switcher supports up to 8 channels for NDI cameras, HDMI Cameras/computers, local videos from USB or online video by RTSP protocol. You can add those videos to any channels at your fingertips.
Geek N8 touch screen NDI switcher supports up to 8 NDI inputs, which allows you to connect Oton NDI-enabled PTZ cameras with a single Ethernet cable.
Geek N8 touch screen NDI switcherhas one HDMI port for input from your existing non-NDI camera or a computer for powerpoint presentation.
Geek N8 touch screen NDI switcher allows you to load MP4 video from your USB drive via USB3.0 port.
Geek N8 touch screen NDI switcher enables you to bulk upload RTSP video to the mediapool and bring them on air in seconds!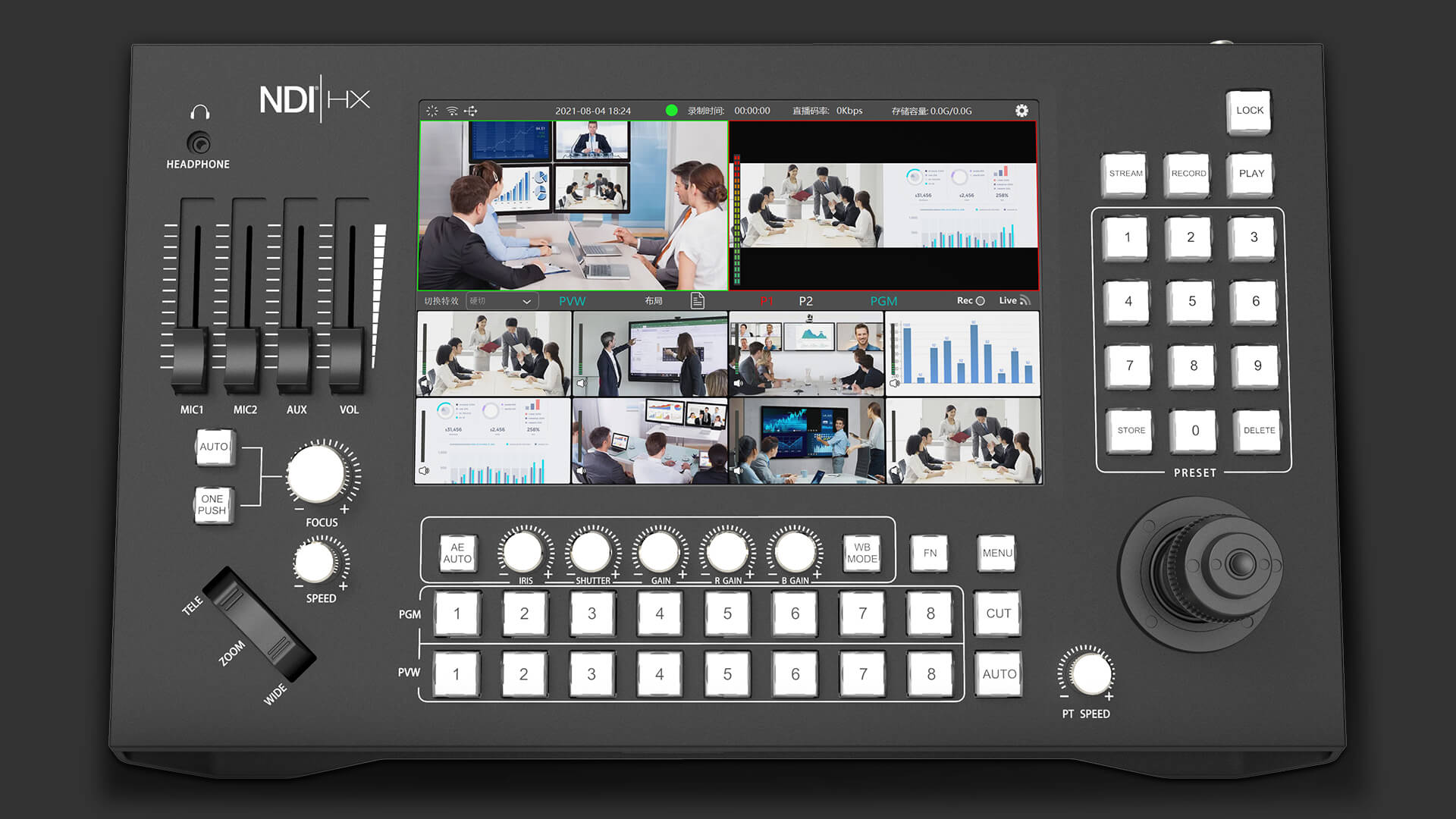 Built-in 10.1 Inch Screen for Geek N8 NDI Switcher
Geek N8 touch screen NDI switcher features with built-in 10.1 inch screen for multiview. You can see all cameras, DVEs, graphics, audio meters, live stream, recording status, preview and final program output all on the same display at the same time. 
Plus, Geek N8 touch screen NDI Switcher has one HDMI output for you to see program video on big screen and the FN buttons allows PVW video for a full-screen display!
Get your hands on the new, revolutionary Geek N8 touch screen NDI switcher! Everything is configured at your fingertips! Manage your live production system like never before!
Additionally, Geek N8 touch screen NDI Switcher allows you to connect mouse and keyboard to the built-in USB port for another control option!
Connecting Microphones or Mixers with Geek N8 NDI Switcher
With 1 pair R/L and 1 pair 6.3mm stereo audio inputs, you can connect external desktop or lapel microphones to Geek N8 touch screen NDI Switcher. You can even connect a music player to generate introduction music after the live stream commences but before the program starts. In the meantime, you can connect an amplifier to the R/L audio ouput and earphone to 3.5mm output for audio monitoring. 
Geek N8 touch screen NDI switcher comes with a built-in audio mixer to help you mix all embedded digital audio and external analog audio. You can adjust the volume for each independent audio as well as the external audio. Plus, you can put a delay for program audio from 0-500ms!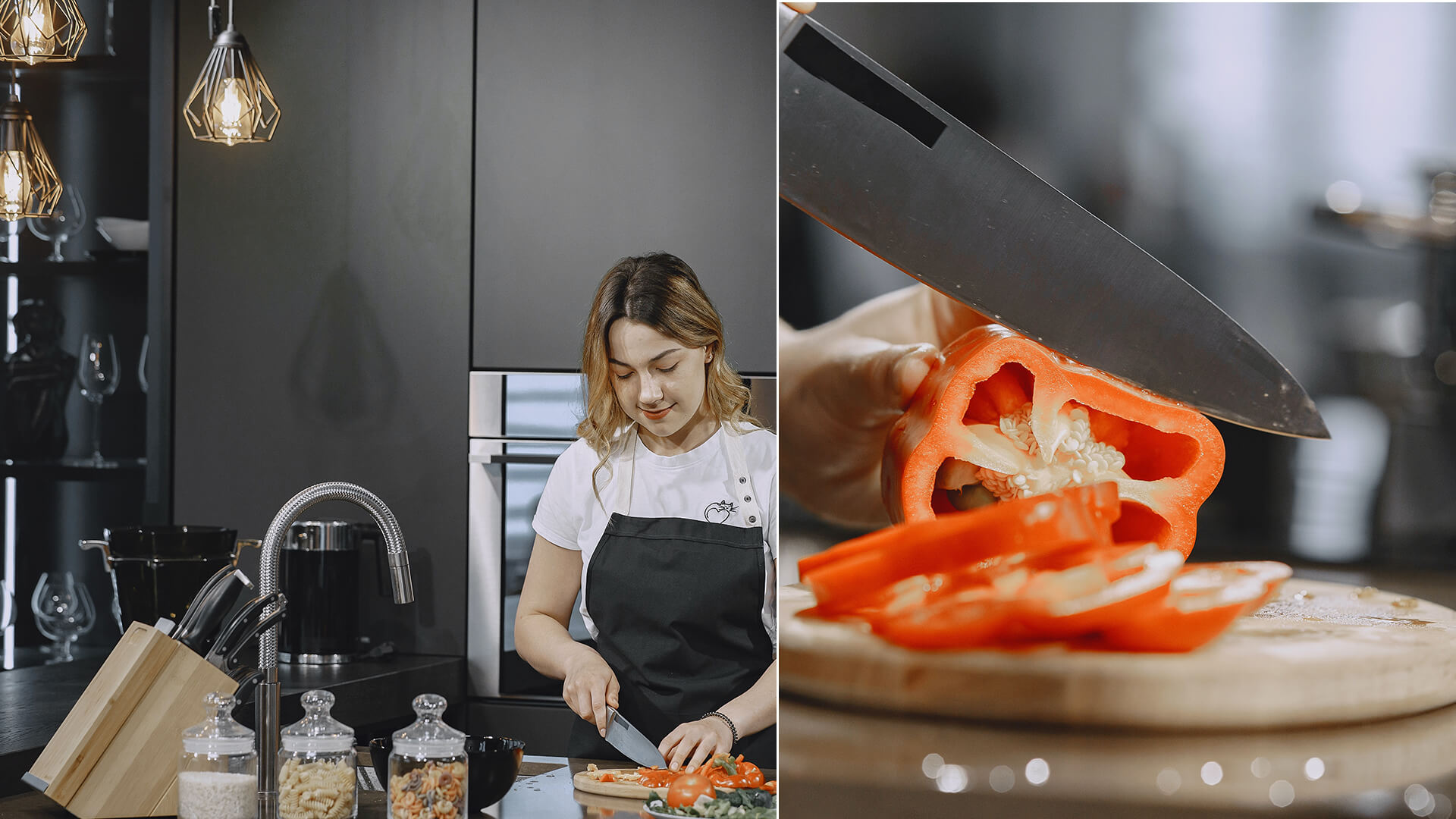 Using Amazing Transition Effects with Geek N8 NDI Switcher
If you want to operate Geek N8 NDI Switcher like a true professional then you can use the program/preview on built-in multiview screen. Select and instantly use broadcast quality transitions like mixes, wipes, fade and more when switching between sources! These customizable transitions gives your program that high end broadcast look!
Picture in picture enables you to superimpose a commentator when covering events such as sports, training videos, interviews and even gaming competitions. Add multi box compositions quickly and easily with Geek N8 touch screen NDI Switcher! you will get a powerful switcher with  picture in picture or picture outside of picture DVEs that you can assign to any Geek N8 video input! Imagine using it for multi camera interviews or picture in picture production while leaving all your M/Es, keyers and DVE completely free for other tasks.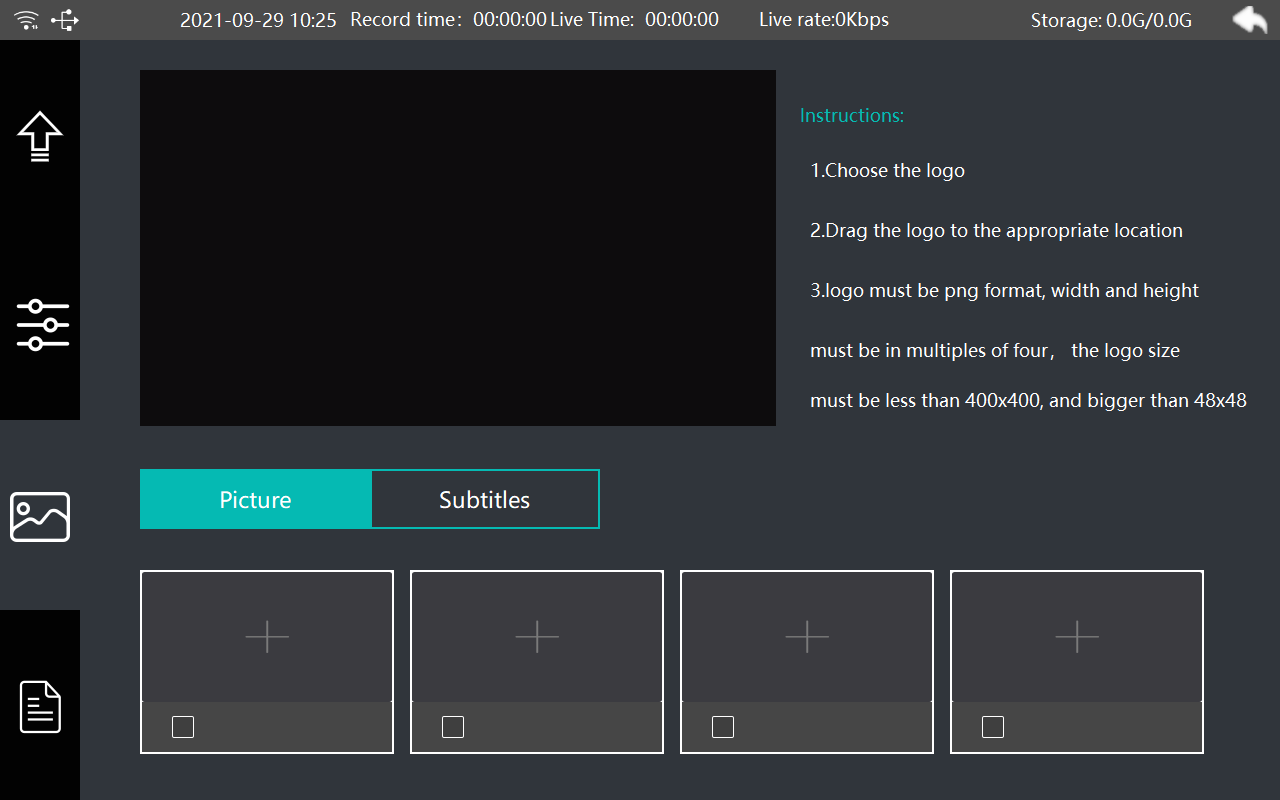 Add Logo to Your Video with Geek N8 NDI Switcher
Geek N8 touch screen NDI switcher allows you to upload multiple logo from your USB drive to the mediapool. Just select the wanted logo and drag it to anywhere with your mouse, as simple as that!
You can select from a wide range of design templates where text attributes such as font and color can be edited, and insert a title. Up to eight created titles can be preset for a smooth workflow during live streaming.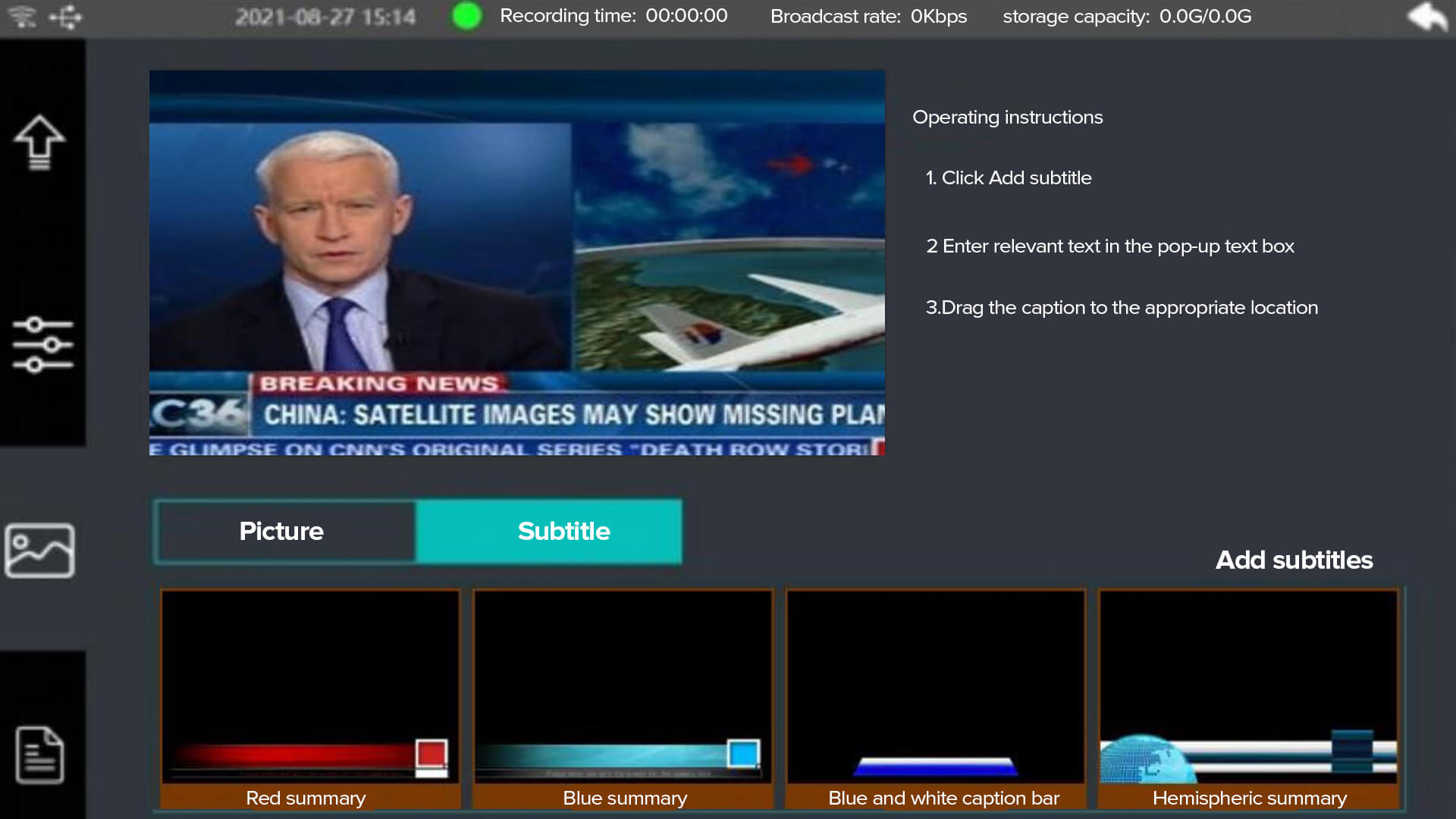 H.264 Multistream with Geek N8 Touch Screen NDI Switcher
Geek N8 touch screen NDI switcher supports RTMP connections, enabling PGM output to be directly uploaded to live streaming services such as YouTube Live and Facebook Live. Oton Geek N8 touch screen NDI Switcher also provides multistreaming capabilities that allow you stream to 2 service platforms at once.
Geek N8 NDI switcher supports direct recording of your streaming footage to USB drive! That means you get very long recordings in the same video files with stereo audio that you streamed, so you can direct upload to any online video site such as YouTube and Vimeo or for post edit! What's more, you can share the exciting moments with your audience by broadcasting the live playback!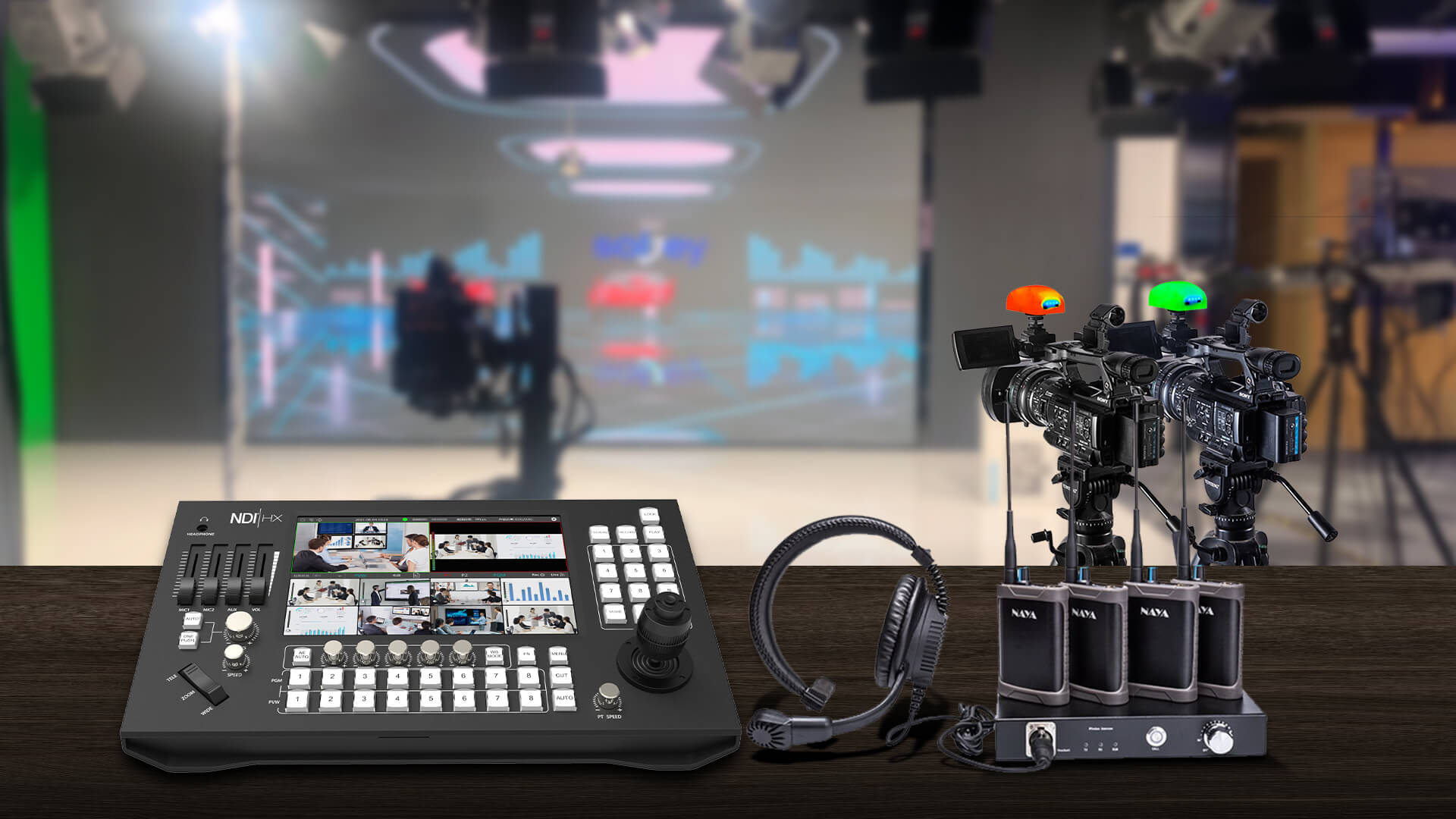 In a multi-camera live video production, it is helpful to know what camera is currently active.This can be accomplished by putting a small light on the camera (also called a tally lamp) that will illuminate red when the camera is on-air.  This way the people on set and the camera operators will know which camera is going to be the next live camera. Geek N8 touch screen NDI switcher features with a tally port making it easy to connect an LED to the correct pins that will illuminate when the matching video input is currently selected on the Switchers Program row.
On-Board PTZ Camera Control
Besides the above bullet points, Geek N8 touch screen NDI switcher features with an additional camera control function. Once your camera is connected to your LAN (Local Area Network), the built-in camera controller can be set up to quickly access up to 8 cameras with a single button press. Providing novice users with a pre-configured PTZ joystick controller is perhaps the best way to get new producers up and running. It is ideal for audiovisual and IT professionals who need to remotely manage multiple PTZ cameras on their network.
Geek N8 features with a 4D Joystick for simultaneous pan, tilt and zoom control across IP, NDI® and serial cameras from multiple brands including PTZOptics, HuddleCamHD, Sony, BirdDog, NewTek and Oton
With 10 programmable preset positions, you can set the camera to rapidly move to between positions using the IP. You could easily store or delete the preset for any channel of Geek N8 NDI Switcher.
Stop losing focus in the middle of streams and videos. Geek N8 allows you to automatically adjust the lens focus according to changes in distance between objects. You could use knob for manual focus as well.
AI-enabled facial tracking delivers accurate exposure no matter where you're positioned. Auto-exposure is finely tuned so you look your best in a variety of lighting conditions
Iris describes how much light you let into the camera to give you a correctly lit scene. Geek N8 gives you the flexibility to adjust brightness without any loss of quality while you're editing and color correcting.
Shutter speed also can affect the amount of light that comes into the camera by controlling how long the camera shutter remains open. Adjustable shutters control exposure time, or the length of time during which light is admitted on Geek N8.
Give your video production a professional touch. Oton's powerful digital signal processing technology makes it easy to achieve perfect white balance for cameras on any type of lighting.
Live Stream eSport with Geek N8 NDI Switcher
Enrich your sports productions with the highest-quality, multi-camera capabilities by Geek N8 NDI Switcher. Share your live sports content with multiple stakeholders – including sports broadcasters and media groups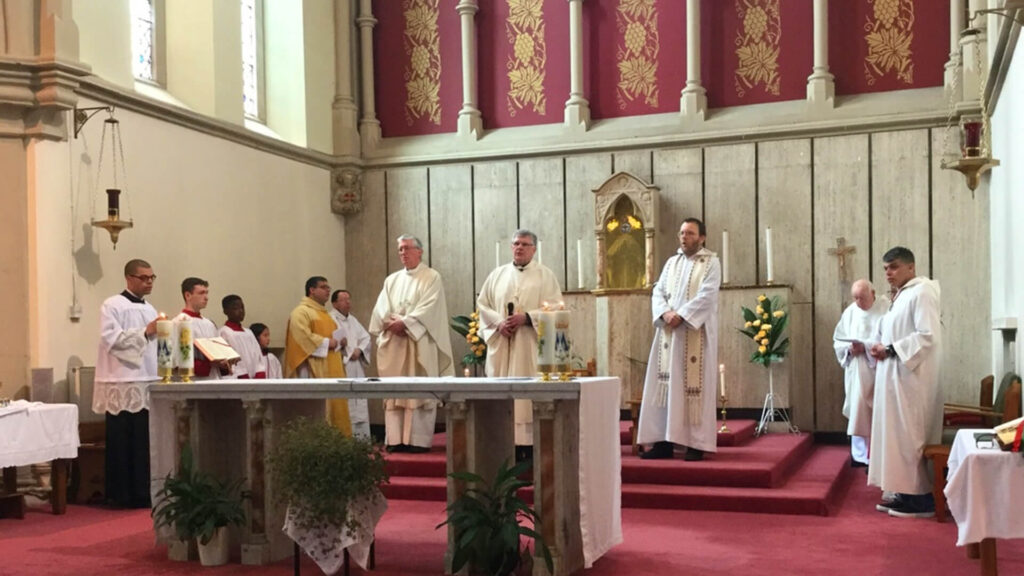 Live Stream Church with Geek N8 NDI Switcher
Connect Geek N8 NDI Switcher to multiple cameras in your church to create programming that's far superior to single camera setups. You'll be able to focus on the details so you can capture the spirit and passion of the sermon like never before!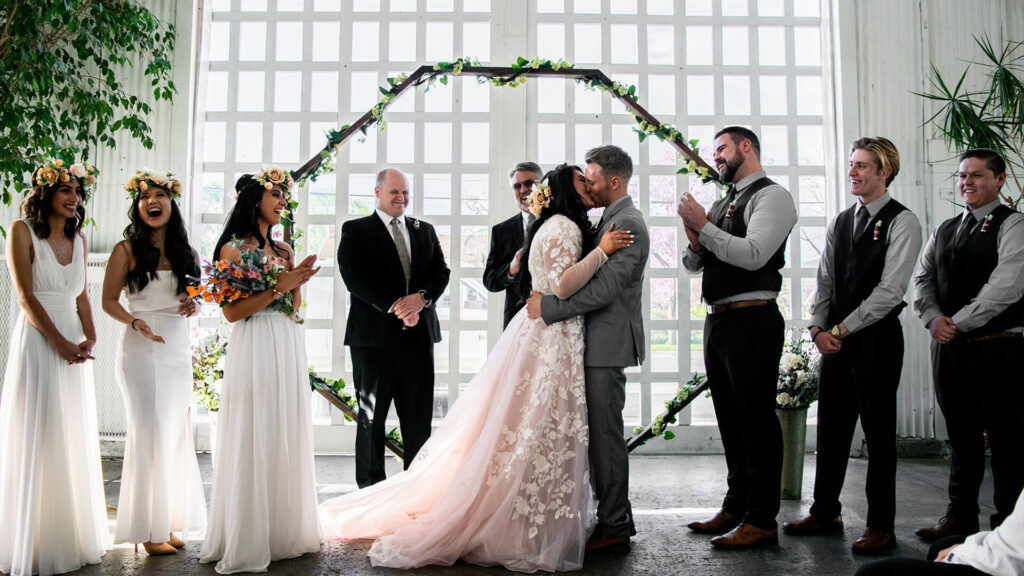 Live Stream Wedding with Geek N8 NDI Switcher
Create beautiful wedding programs! Share the intimate and memorable moments of your wedding with friends and family who are unable to attend the event in person. You can also record the wedding stream video and watch it at anytime!
Live Stream Concert with Geek N8 NDI Switcher
Create multi camera programs in real time! With Geek N8 touch screen NDI Switcher you can cut your show as it's happening, so you don't have to spend time in post production! It's ideal for band concerts, studio shows and more!