8 Channel SDI HDMI Live Production Switcher with Multistream and Recording
Oton Geek S08 series live production switcher can switch up to 8 different video inputs (4xSDI + 2 x HDMI + 2 x RTSP online video. The input format will be auto-detected by the switcher, so you don't have to worry about the compatibility issues.
The multiview layout allows you to show preview, program, and input sources all on the same screen with adjustable PIP & POP functionality. Users can also add their brand logo and subtitle to PGM video for a more stunning live production.
You can even record up to 1080p60 to USB drive in the built-in USB2.0/3.0 port. In addition to the program and multiview preview outputs, the Oton Geek S08 live production switcher can also live stream to 4 destinations at the same time such as Facebook, Youtube, Ustream via Ethernet, without requiring additional hardware. Concert productions, events, parties, competitions, educational institutions, and live sports programming are some of the use cases where the Geek S08 live production switcher could be utilized.
Choosing From 3 Great Models
Geek S08 | Geek S08M | Geek S08 Pro | Geek S08M Pro
Geek S08 is an 8 channel live stream switcher with 4 SDI 2 HDMI and 2USB/IP inputs. It features exciting DVE, PIP, audio mixing, Chroma key, logos and subtitles, 4G wireless dongle, video recording and H.264 multistream.
Geek S08M includes all the features for S08 and comes with a built-in 15.6 inch multiview screen, You can see all of your cameras, tally indicators, graphics, preview and final program, customize labels, see audio meters on the same display.
Geek S08 Pro includes all the features for S08 and comes with a 7 inch multiview screen, Geek S08 Pro also integrates built-in PTZ joystick control for large conference!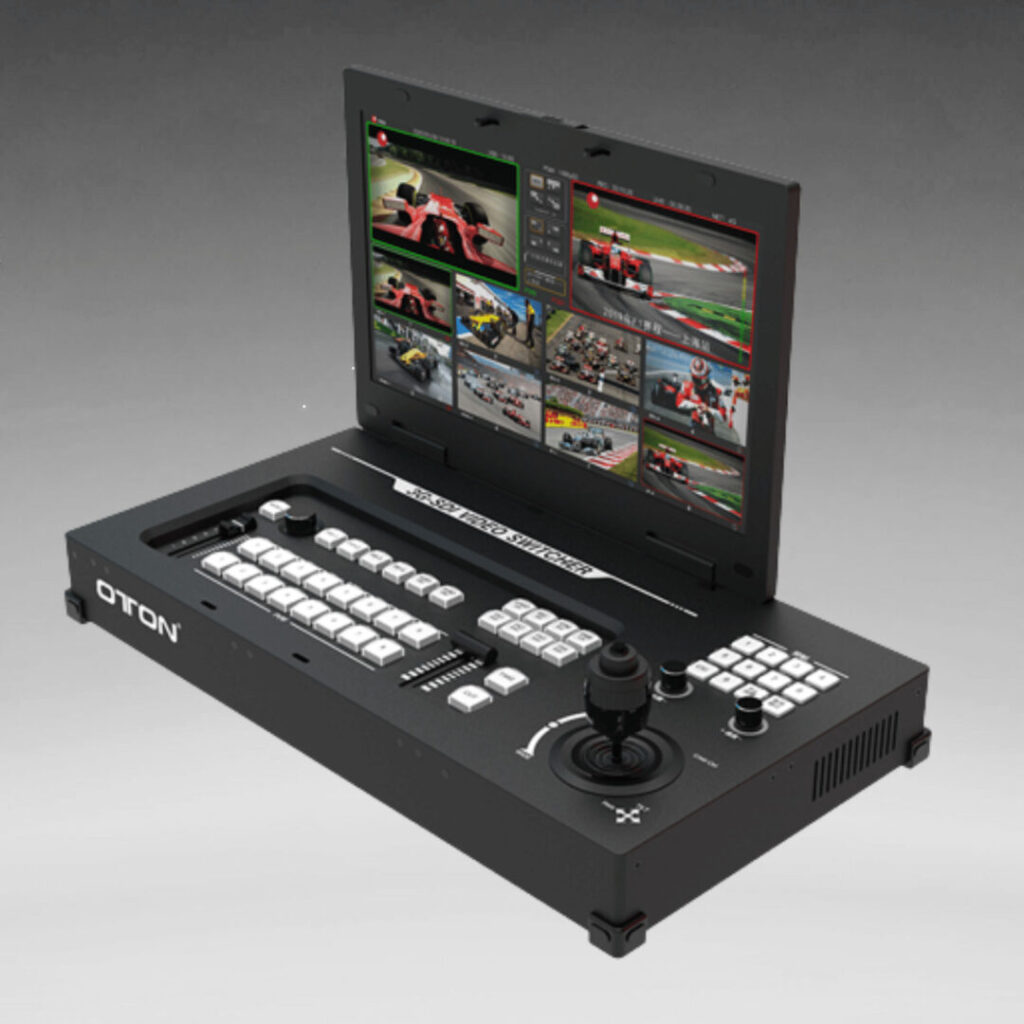 Geek S08M Pro includes all the features for Geek S08M and plus more! It integrates a PTZ camera controller which allows you to control up to 6 cameras on pan, tilt and zoom. You can even connect an external Joystick controller for max flexibility!
Geek S08 live production switcher allows you to connect 4 SDI and 2 HDMI devices for video source 1-6. All inputs resolution are auto detected, you can have different formats on different inputs so you don't worry about connecting video devices. For Channel 7 and 8, you can either load 2 USB files or 2 RTSP online videos or 1 USB file and 1 RTSP video.
You can connect up to 4 SDI cameras like POV camera, broadcast camera or conference camera.
with this 2 HDMI inputs, you can connect any HDMI cameras or computers for Powerpoint and PDFs
You can load local images and videos from your USB drive to share with the audiences!
This is perfect for remote interviews or largescale shows with different locations
SDI and HDMI out for Program and Multiview
Geek S08 live production switcher includes professional 2 SDI and 1 HDMI program outputs, it lets you connect to professional decks including big screen televisions.
Geek S08 live production switcher also features with a second HDMI output for multiview. You can see all cameras, DVEs, graphics, audio meters, live stream, recording status, preview and final program output all on the same display at the same time. 
Add Exicting Transition Effects to Your Video
Built in 2D DVE
Cut switching is easy and selecting any input will directly switch to that source. However if you want to operate Geek S08 like a true professional then you can use the PVW/PGM on built-in multiview screen. Select and instantly use broadcast quality transitions like mixes, wipes, fade and more when switching between sources! These customizable transitions gives your program that high end broadcast look!
Supersource PIP
Add multi box compositions quickly and easily with Geek S08 live production switcher! you will get a powerful switcher with 12 picture in picture or picture outside of picture DVEs that you can assign to any Geek S08 video input! Imagine using the SuperSource for multi camera interviews or picture in picture production while leaving all your M/Es, keyers and DVE completely free for other tasks.
Work with Professional Microphones/Mixers
With 1 independent 3.5mm stereo audio and 1 pair R/L audio inputs, you can connect desktop and lapel microphones to Geek S08 live production switcher. With 2 audio inputs, you can ensure a host and guest both have lapel microphones when doing interviews.  In the meantime, you can connect a earphone to 3.5mm output for audio monitoring
Super Clean Chroma Key for Virtual Production
For news or on-set presentation work, Geek S08 live production switcher are perfect as they feature the powerful Chroma Key for full color screen keying effects including green, blue, yellow, red, black etc. Geek S08 live production switcher features entirely new algorithms and color science that deliver true photorealistic composites. You get incredible edge handling, greater color separation, amazing color fidelity than ever before, even in dark shadow areas!Just ensure your scene is well lit and that the cameras are properly white balanced, then you simply activate the key and it will do all the work for you! One touch keying is dramatically faster and helps you accurately pull a key with minimum effort. Imagine presenting the weather, sports, news and entertainment in a cinematic quality environment, all composited in real time! The operation is super easy and you get precise controls for edge and flare.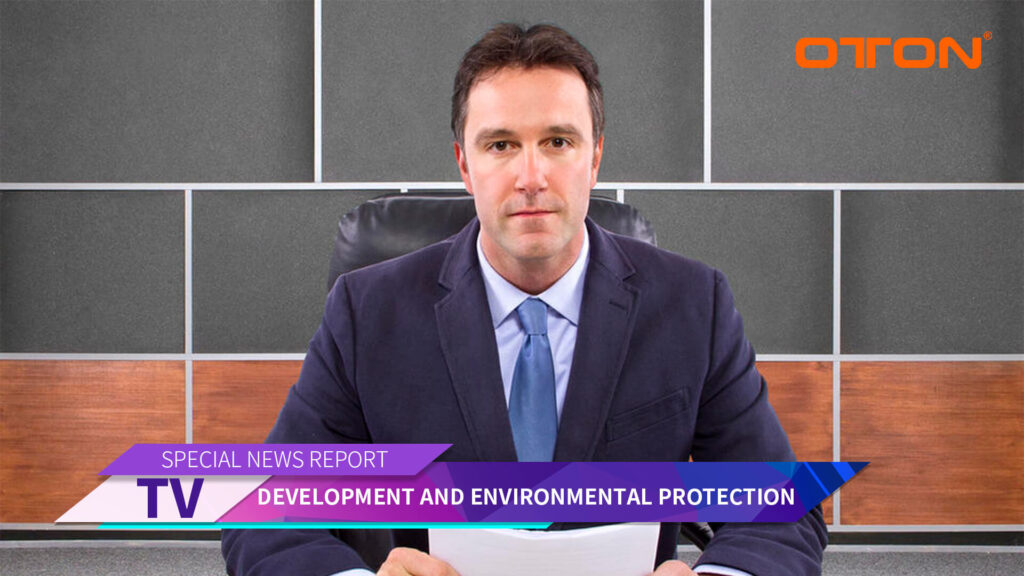 Add Logos As Lower Thirds!
Geek S08 live production switcher allow you to store unlimited logos at web back end and load 2 of them on air at the same time! You can get 1 of your brand logo sitting on the upper right corner, the other sitting at the lower left corner, as a trick for lower thirds! Just use photoshop to create lower third in PNG file and get it on air!
Add Subtitles to Your Live Video
Geek S08 live production switcher allows you to store up to 20 live subtitles to your videos, especially those you're planning to post on social media to significantly boost video engagement.
Vertical Video for Social Media Streaming
Oton Geek S08 live production switcher features with horizontal video for movies and Tvs, and vertical video for social media live streaming and ecommerce live streaming. To create more engaging vertical content multiple camera angles with live switching will take your productions to the next level.
To ensure maximum compatibility, Geek S08 live production switcher features a USB 3.0 connection that operates as a simple webcam source. That means you can plug in and instantly get working with any video software.
The software is tricked into thinking the Geek S08 live production switcher is a common webcam, but it's really a live production switcher! That guarantees full compatibility with any video software and in full resolution 1080HD quality.
Choose any software you like, such as Open Broadcaster for live streaming, or Skype for Powerpoint presentations.
* Hardware Version 1.0 & 2.0 doesn't support this function.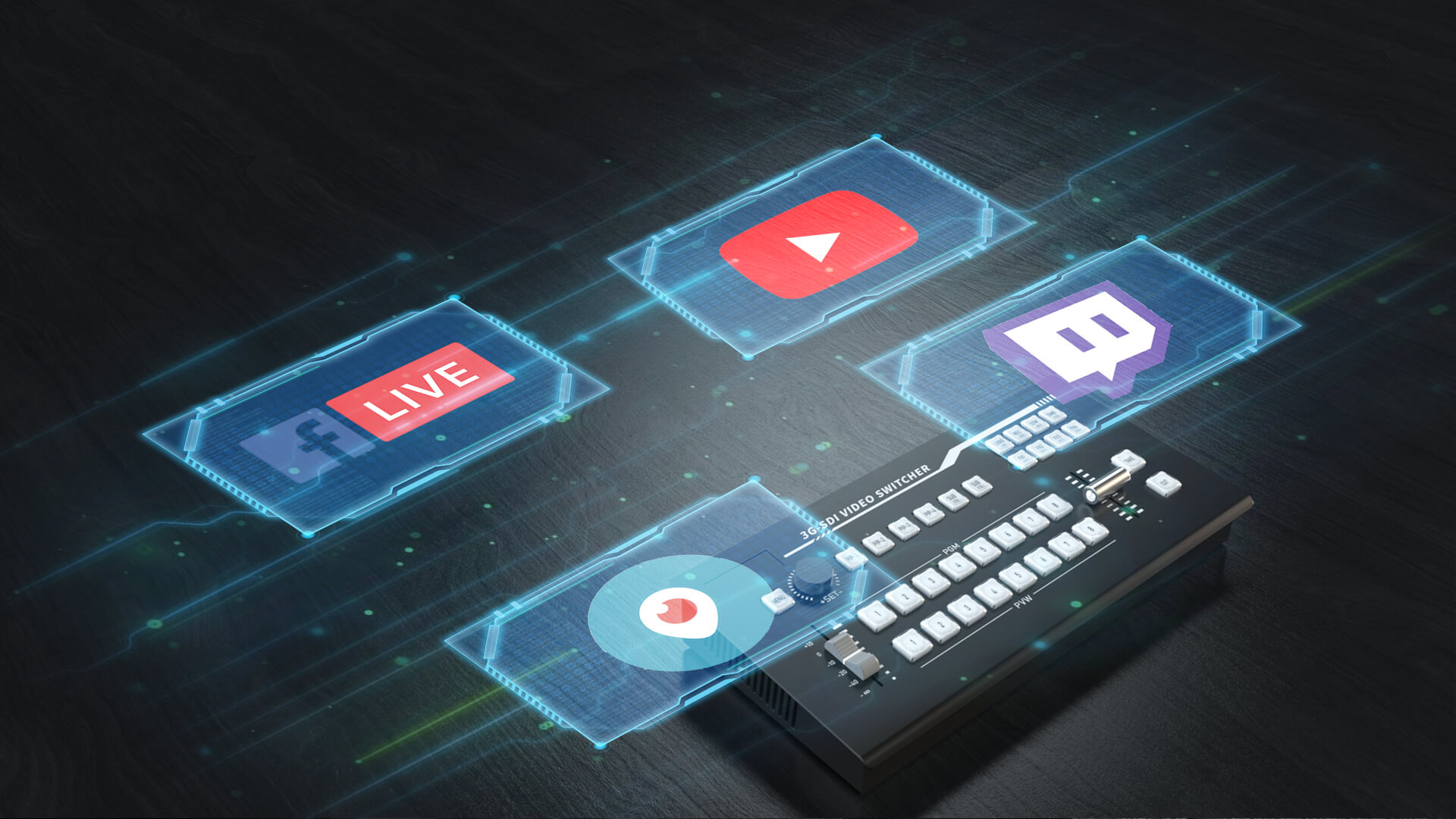 Geek S08 live production switcher has a built in hardware streaming engine for live streaming via its built in Ethernet connection. That means you can live stream to YouTube, Facebook and Twitch in better quality, without dropped frames and with much simpler settings. Just enter the streaming address and key!
Plus, allows streamers and broadcasters to distribute their content to 4 platforms max at the same time, improving end users' experience can lower abandonment rates, increase ad impressions, improve conversion rates, and strengthen customer loyalty.
Record Program Video to USB Drive Directly
Geek S08 live production switcher supports direct recording of your streaming data to USB drive! That means you get very long recordings in the same video files with stereo audio that you streamed, so you can direct upload to any online video site, such as YouTube and Vimeo.
4G/5G Wireless Dongle for Alternative Network Connection
If you're doing live production on location then the Geek S08 live production switcher supports connecting an external 4G wireless Dongle to the USB port to use Wi-Fi data! It's also a great backup for the main Ethernet connection.
In a multi-camera live video production, it is helpful to know what camera is currently active.This can be accomplished by putting a small light on the camera (also called a tally lamp) that will illuminate red when the camera is on-air. Some setups will use a green light when a camera is on preview, this way the
people on set and the camera operators will know which camera is going to be the next live camera. Geek S08 live production switcher features with a tally port making it easy to connect an LED to the correct pins that will illuminate when the matching video input is currently selected on the Switchers Program row.
4D PTZ Camera Joystick Control
Besides the above bullet points, Geek S08M Pro live production switcher feature with an additional camera control function. Once your camera is connected to your LAN (Local Area Network), the built-in camera controller can be set up to quickly access up to 6 cameras with a single button press. Providing novice users with a pre-configured PTZ joystick controller is perhaps the best way to get new producers up and running. It is ideal for audiovisual and IT professionals who need to remotely manage multiple PTZ cameras on their network.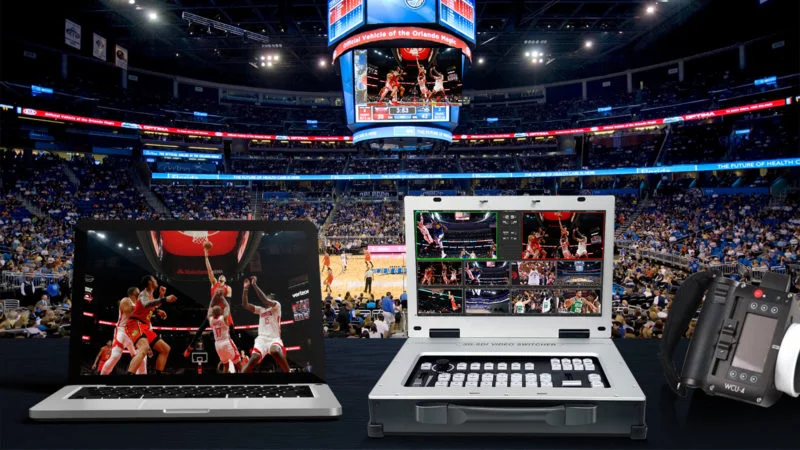 Enrich your sports productions with the highest-quality, multi-camera capabilities by Geek S08 live production switcher. Share your live sports content with multiple stakeholders – including sports broadcasters and media groups
Connect Geek S08 live production switcher to multiple cameras in your church to create programming that's far superior to single camera setups. You'll be able to focus on the details so you can capture the spirit and passion of the sermon like never before!
Create beautiful wedding programs! Share the intimate and memorable moments of your wedding with friends and family who are unable to attend the event in person. You can also record the wedding stream video and watch it anytime you want.
Create multi camera programs in real time! With Geek S08 live production switcher you can cut your show as it's happening, so you don't have to spend time in post production! It's ideal for band concerts, studio shows and more!