When streaming video, content creators use a content delivery network — YouTube, Twitch, or a social network — to spread their content to the people who use that network. Creators are usually free to use as many of these websites as they want. The only limitation is that you can't stream to as many destinations as you want, at least not at the same time. This problem can cause a significant hurdle creators need to overcome. Also, deciding on one streaming platform can be difficult: Which one is better? Which destination will give me the most for my effort? So why not have it all? Let's dive into what multistreaming is and how to stream to multiple sites at once.
What are the benefits of multistream?
Before creators were able to multistream, each network they used meant another broadcast they needed to do. If you used YouTube, Twitch, and Facebook, for example, you had no choice but to make a separate stream for each of these.
When content creators multistream, this stops being an issue. Together with their time, creators get back the freedom to choose multiple platforms to use. They can stream to multiple platforms freely, without worrying about bandwidth or other constraints. This freedom of choice is important to you as a creator because it lets you:
Use niche and mainstream platforms at the same time. Niche platforms are where the core community is. Mainstream platforms help you break out of your niche.
Take advantage of the specifics of every platform. Facebook is renowned for its analytics and reach, while LinkedIn is known for the very specific audience it attracts. There's no reason not to use both.
Explore emerging networks together with your audience. As new content delivery networks are introduced, a part of your audience might start using them instead of one of the established networks. Thanks to multistreaming, you don't have to choose between emerging and established networks. You can use both.
Creators can stop trying to attract their audiences to a single platform. If they can stream to multiple platforms, having a central platform where they do most of the streaming stops being so important.
Creators can get better results without significant new investments. It's possible to stream to multiple sites without huge upfront investment.
Streaming to multiple sites opens a world of possibility to content creators. Whether their goal is to reach new audiences or stay in touch with specific segments of an existing audience on the platforms they prefer, multistreaming will help creators achieve it.
Streaming software allows the user to stream to multiple destinations. Wirecast, for example, even has all recommended encoding settings for different live video platforms as presets, so it's just a matter of copying and pasting those RTMP and stream key values from the CDN into the software.
However, beware that the more streaming destinations – the more processing power and upload speed is required. Each additional stream destination will "eat up" a good chunk of CPU and bandwidth. This means that your computer may have a hard time going live to three or more places at once, causing dropped frames, buffering, and audio/video delay. Launching a multistream from a computer using software requires a pretty powerful machine and high internet upload speed, making software a less reliable option.
Hardware switchers like Geek S04, Geek S06 Series, Geek S08 Series are capable of streaming to 4 destinations at the same time. The operation is super easy, you only need to copy each stream address and stream key values to the stream configuration of the switcher.
Time has shown that multistreram with a hardware switcher is much more reliable than using a computer with software. This is mostly because the hardware is doing all the heavy lifting in terms of processing power. However, even with hardware a good internet upload speed is still required for a quality multistream.
4CH SDI/HDMI Switcher with Multistream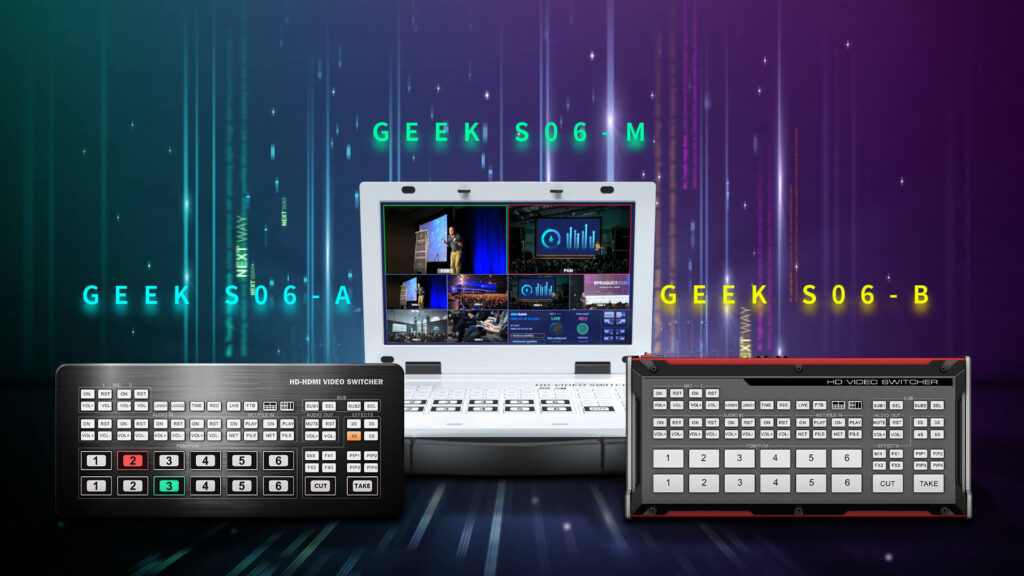 6CH USB/HDMI Switcher with Multistream
8CH SDI/HDMI Switcher with Multistream
8CH Touch Screen NDI Switcher with Multistream